German minister visits Gideon Brothers' robot at Tokić
The potential of Gideon Brothers' technology prompted the German Federal Minister of Economy and Energy, Peter Altmaier, to include a stop to meet the team and to experience the technology first-hand. The meeting occurred today at Tokić, one of the Croatian companies piloting Gideon Brothers' fully autonomous pallet handling robot. Innovation and digitalization are key aspects of Minister Altmaier's policy agenda and that theme permeated his visit.
Two Croatian ministers – Darko Horvat, Minister of Economy, Entrepreneurship and Crafts, and Gordan Grlić Radman, Minister of Foreign and European Affairs – also joined the delegation, as well as six members of the German federal parliament, and representatives of several dozen German companies, including those from retail, manufacturing and logistics.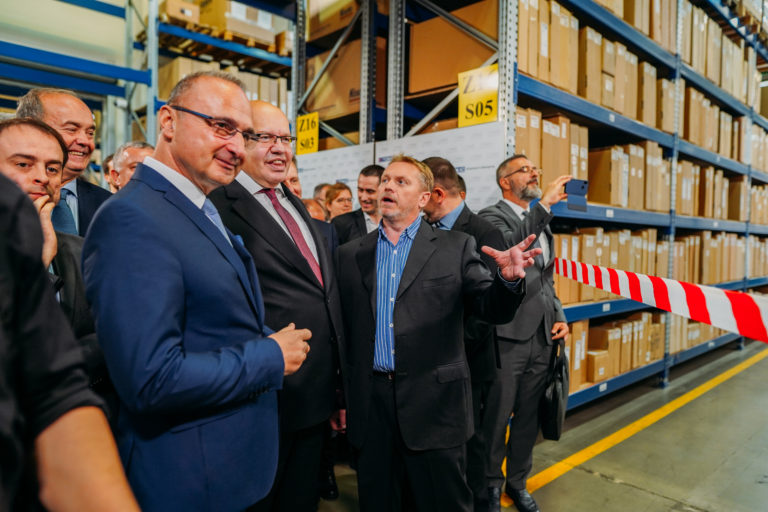 "Gideon Brothers is among the pioneers developing a new generation of autonomous machines powered by a technology relying on visual perception and deep learning. This technology allows machines to recognize and understand what surrounds them, making them a more efficient tool for dynamic industrial environments, a tool significantly outperforming existing technologies," explains Matija Kopić, CEO and co-founder of Gideon Brothers.
"This is a very exciting time for Gideon Brothers. We are undergoing an intense scaling transformation, increasing headcount and production and support capacities. The clients currently testing our robots and those with which we are just arranging new pilots include some of the biggest European and global brands. We are very happy that leading Croatian companies have partnered with us from the beginning," noted Milan Račić, Chief Growth Officer and co-founder of Gideon Brothers.
In conversation with Gideon Brothers' co-founders, CEO Matija Kopić and Chief Growth Officer Milan Račić during the presentation, Minister Altmaier noted with interest that deploying the robots at a customer facility doesn't require complex custom programming, and that the robot can operate on day one. He also noted the hot-swappable battery system, requiring only a few minutes to exchange the batteries. Supporting European battery production is one of the key policy initiatives of Minister Altmaier and he related how he advocated wider battery use in vehicles since the 90-ies.
Matija Kopić and Milan Račić related the company's plans for scaling the production in 2020 and 2021. Highlighting the need of supporting European startups, Minister Altmaier noted the efforts to set up venture capital funds for third-stage investments, when a company needs a round of 50 or 100 million euro to finance scaling. Most European startups at that stage now have to seek such funding in the US, noted Minister Altmaier.
He also inquired about the robots' autonomy and the ability to distinguish between some 30 classes objects in its environment, asking jokingly if the robot could recognize a cat or a dog. The answer to the humorous question was, of course,  yes – the robot can be trained to recognize cats, if a customer is likely to have cats in their warehouse.
In keeping with the innovation theme, Minister Altmaier also opened the German Croatian Economic Forum, a gathering of German and Croatian business leaders, where digital transformation was the central topic. Gideon Brothers CEO Matija Kopić was one of the speakers at the Forum, joining a panel on the importance of digitalization for the Croatian economy.
Gideon Brothers is an AI and robotics company developing autonomy for industrial environments, and their first product is an autonomous mobile robot for transporting loads of up to 800 kg on pallets. The robot is fully autonomous (the machine itself chooses the route between the start and end point) and collaborative (designed for safe operation in facilities populated by people).
Gideon Brothers is one of only three companies globally developing autonomy based on visual perception – a breakthrough technology combining cameras and deep learning which pushes the limits of what is possible in industrial environments. Gideon Brothers' robots are a breakthrough technology because they can understand what surrounds them – recognizing 30 classes of objects, equipment, and people – and thanks to this feature, they outperform machines relying on standard 2D LiDAR (laser) sensors.
Don't miss any news from Gideon Brothers!
By subscribing to our media email distribution list, you will get early access to important releases, alerts and other media materials. Subscribe here.